Tradition or Evolution ... Perhaps Its Both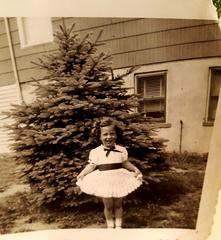 Handc
rafted items are a tradition in our family. My grandmothers, Paulina and Rosa, each knitted and crocheted, and my mom made her living at a sewing machine as well as making my clothes. I learned the basics of knit and crochet by the age of 10 and spent hours with mom at the sewing machine, mostly watching until she was confident I wouldn't put a needle through my finger and ruin my first experience.
Knit and crochet came more naturally to me, perhaps because grandmothers have more patience than mothers. I realized that once I became a grandmother.
With her family grown and on their own, knitting was a hobby Grandma Paulina enjoyed at her leisure along with gardening.
Grandma Rosa, however, enjoyed stolen moments with her crochet hook. Crochet was a respite for her – a time to decompress – a retreat from her busy life as co-proprietor of Vincenzo Pacifico & Sons Fruits and Vegetables, a neighborhood grocery business that consisted of both brick and mortar and school buses that they converted into mobile grocery stores. People within walking distance visited the store almost daily and those at a distance waited for my grandfather and my uncles to chug into their neighborhoods, horns honking and them wailing their peddler's call announcing their arrival, bringing food to the people.
I spent countless hours sitting next to Grandma Rosa when she crocheted. A silvery rod would appear mysteriously from her bun and she twisted the cotton thread around the rod and through hooks thinner than the eye of a sewing needle. But those hours spent with her came in minutes – every spare minute – between customers and deliverymen, stocking shelves and taking inventory, cooking and other household chores, she crocheted – doilies, dresser scarves, tablecloths, bedspreads, and my favorite, a white dress just for me! I put it on and wanted never to take it off.
I don't remember ever seeing a pattern, yet every piece she made was different, each motif uniquely created by hands that toiled without so much as a complaint for the time, effort and energy she gave.
I couldn't be more proud of the family business and was always in awe of how Grandma Rosa smiled and sang song in her native Italian through days that began well before the sun rose and ended long after it set and how Grandpa and Uncle Danny and Uncle Lou spent hours each morning preparing the buses with fresh fruits, vegetables, canned goods and more, all for the convenience of the consumer.
Time passed and I dabbled in the crafts I learned as a child. Having mastered most of the stitches in crochet and with both grandmothers gone, I decided to take a knitting class. I made my first sweater. I was proud to graduate to angles from rectangles and wore that sweater till it pilled beyond recognition of the original pattern. I was hooked – or was I needled? Either way, I loved it. I discovered new shops, tried more intricate stitches, fell in love with unusual yarns and textures, took more classes and met some great people.  I loved going into shops and chatting it up with the group around the table, the mostly ladies who spent their spare time in the company of friends and acquaintances and even strangers not learning, not teaching, just knitting. 
Life with needles and yarn was great for quite some time. Slowly I noticed the number of people at classes shrinking, the number of classes was shrinking and the number of people at knit-ins shrinking.  Worst of all, the number of yarn shops began to shrink. I couldn't help but think of all that fabulous fiber that would never be seen or used to create sweaters, hats, cowls, blankets etc. I asked myself:
Can it be that the world has gone from specialty yarns and unique fibers to yarn-by-the-pound at big box stores? Impossible! Unique fibers make an item special.
Can it be that today we actually can purchase yarn without touching it? How does a silk/angora blend feel against your skin? Is all alpaca soft as a baby's bottom?  We can when we create the feel factor for the customer. It's not easy, but it is possible and we accomplish that for our online customer. 
Are we so busy that we have become a society of knit and crochet introverts – loners who spend their evenings, weekends and other spare time crafting in silos? It can't be!  We are called "knit and crochet enthusiasts." Part of our enthusiasm is having like-minded others around to share our excitement and accomplishments. Grandma Paulina knitted with friends and when I flanked Grandma Rosa on one side, her sister Jenny was on the other with her own hook and needles. My friends and I commune to knit at our homes, on knitting weekends in Vermont and I've met some wonderful women and men at retreats.
What now, I thought? Do I just give in to working with hum-drum yarns? Do I buy online not knowing what I'm getting? Do I abandon my love for fiber, my enthusiasm for the crafts, my social desires and my family's entrepreneurial background? NOT ME! I HAVE GRIT! I DON'T GIVE UP ON WHAT I LOVE! I look opportunity in the eye and say, "Out of my way. I'm TheKnittyGrittyYarnGirl." 
Online and door to door, I bring Yarn to the People,
and I can't wait to bring it to you!
---
Also in Blog
A very special welcome to summer residents and vacationers along the Connecticut and Rhode Island shoreline. KnittyGrittyYarnGirl Yarn Shop is conveniently located at 170 Flanders Road (Midway Plaza), Niantic Connecticut. Come visit us for fabulous yarns and accessories for your knit and crochet projects. We look forward to seeing you.