Beyond the Skein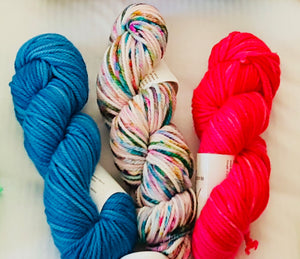 Early in my career as a real estate practitioner in Connecticut, I was working with a gentleman (I'll call him Ed) who "wasn't in any hurry" to buy. That phrase can be the kiss of death for someone who works fully on commission, but not me. I was in it for the long haul. With Ed, it turned out to be a very…long…haul.
A little background on Ed. His situation was an pending divorce. Until the divorce was final, he and his soon-to-be ex were making the best of living separately in the same very large very contemporary home on Long Island.
So I had a Contemporary buyer wanting to buy a contemporary home in a very historic area of Connecticut. I put on my thinking cap and scoured the listings Early in the journey, I introduced Ed to a builder who showed him plans for a contemporary property. The square footage was within his parameters and the price was right. With plans in hand we drove to the site. Ed turned to me and said, "let's keep looking." He told me he didn't want to wait the four to six months construction time. What happened to not in a hurry, I thought.
It was hard for me to understand Ed's plight. I had recently bought new construction and loved the process of watching everything come together – choosing cabinet designs, carpet, colors, floor finishes…fun, fun, fun…for me. Not so much for Ed.
We continued on the quest for months…four months exactly. Let's face it, there are only a limited number of properties that become available each month that meet any given person's criteria. One day I called and told him about a special property that I believed fit his wants and needs to a T. As we drive to the property he mentioned the area looked familiar. It was familiar. We rounded the corner into the cul de sac. My car came to a halt in front of a nearly-complete contemporary that sat atop a small rise. It waited patiently for its new owner.
Ed walked comfortably through the house repeating his surprise over and over – how he couldn't imagine it was going to "look like this," "be so nice- so spacious!" He confessed how he was confused by the plans and how he could not put the pieces together. Four months, a foundation, walls, cabinets and carpets later,, Ed and his new home were a perfect fit.
Thirty plus years later as the KnittyGrittyYarnGirl, I find the very same thing with many knitters. They look and touch and feel and turn to me and ask what can I make with this? Or they'll pick up a skein, turn to me and shrug questioningly. At those times I recall my time with Ed and the very valuable lesson I learned from him.
With a few simple questions and a little imagination from me, some look through patterns and narrow their search to the perfect match for them. Still others can't. They can't see beyond the skein. They prefer see a sample and to find everything in a neat package, all in one, no craziness picking yarn then finding pattern or vice versa. Just put it all together, package it up, include instructions , tell me what I owe and I'll be on my way.
Something for everyone. It works…like takeout. Yep, we even throw in fortune cookies for good luck.
Thanks Ed.
---
Also in Blog
A very special welcome to summer residents and vacationers along the Connecticut and Rhode Island shoreline. KnittyGrittyYarnGirl Yarn Shop is conveniently located at 170 Flanders Road (Midway Plaza), Niantic Connecticut. Come visit us for fabulous yarns and accessories for your knit and crochet projects. We look forward to seeing you.